The Best Car Polish Company In Malaysia
Before reading any further, please read this section to get to know more on the polish and wax. This knowledge is good for the car owner if they wanted to differentiate between car polish company in Malaysia. The workmanship should be from the best worker with the best product.
Location
The best workmanship so far is the Glisten 63 which are located in Damansara Perdana. You can easily find them which located beside Syed Abu Mamak shop at Jalan PJU 8/2 as per map below: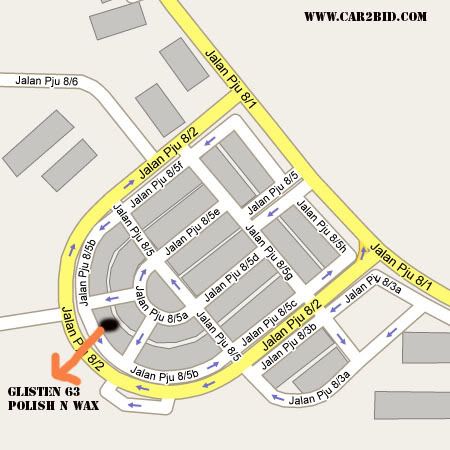 Package Available:
Cars or Vehicle Under 2,000 CC:
2 Steps : RM 180
3 Steps : RM 280
4 Steps : RM 388
Cars or Vehicle Above 2,000 CC:
2 Steps : RM 220
3 Steps : RM330
4 Steps : RM480
4WD/MPV:
2 Steps : RM 268
3 Steps : RM 398
4 Steps : RM 550
These are the details on the four steps car care:
Oxide Cutting
Glaze Cutting
Polish
Wax
You can request of any other customs style that you like. No joke. You can even make your car like mirror too. But the price is too hefty for the entry level person. Strongly suggest the four steps and the guarantee is 3 months you still can see the effect.
You can browse and do some research the other company in Malaysia who provides the car polishing and wax services but try this company and you will never be regretted. Their man power being trained and being sent to Japan to learn how to polish a vehicle.
One special promotion for the readers, please print this post or print this voucher below. (Right Click –> View Photos –> Print) then bring the voucher to Mr Jun and he will give you free membership which you will be entitled the further discounts on wax, polishing, cushion cleaning, leather cleaning and etc. You can even get discount on your second car or third car.
The products being used to polish and wax your car will be the best range of Meguiars, Made In USA products. By the way, if you don't know, all the cars used in the Tokyo Drift had been treated by the Meguiars products, no joke man !!
So what are you waiting for? If you are the car owner then send your car there. You can even see a Ferrari or Porsche in the shop. This shows that this company is a professional that you can trust to do the polishing. One of their supervisor have the experience since year 1996. Find him there. The name can't be revealed here.
Conclusion : Affordable, result driven, good service polish company–> Try Glisten 63. (They can easily beat Carnauba Wax - AutoSpa. This is for sure. Compare price and quality, you will feel worth it to come to Glisten 63.
Leave a Reply